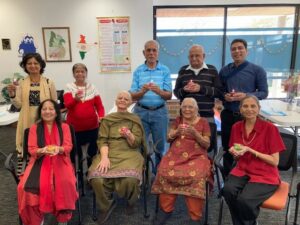 All the locations, namely Naperville, Niles, Vernon Hills, Orland Park, and Schaumburg celebrated Diwali in a splendid manner.
Diwali (also called Divali or Deepawali) is a "festival of lights", which is celebrated throughout the world. During this time, the whole city of Ayodhya (Birthplace of Lord Rama) is decorated to welcome Lord Rama's homecoming after 14 years of exile and killing the demon "RAVANA". It was a triumph of good over evil, and the blessings of victory, freedom, and enlightenment. Since then, on the night of Diwali, celebrants light dozens of candles and clay lamps (called diyas), placing them throughout their homes and in the streets to light up the dark night. The name comes from Sanskrit Deepawali, meaning "row of lights."
All centers were decorated beautifully, and the seniors were dressed in their finest clothes. Pooja was performed while seniors chanted devotional prayers. Puja was followed by a healthy and tasty lunch for the seniors. As always delicious sweets and Diyas were distributed.
Our Senior participants enjoy all our celebrations, for we do it mainly to make them feel at home. They are reminded of their yesteryears when they celebrated these festivals grandly along with their families. These celebrations provide a venue for the elderly to get involved in structured and fun-filled activities and festivities which help them to be mentally happy and healthy!