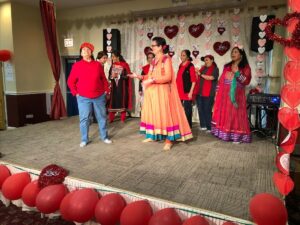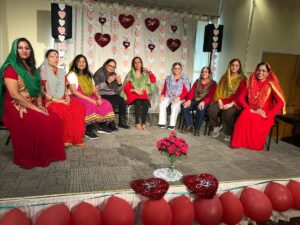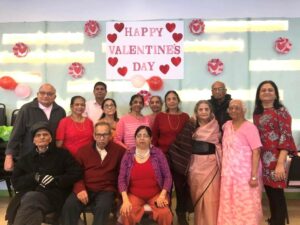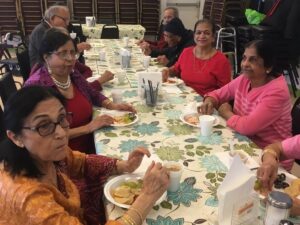 Valentine's Day is a perfect occasion to rekindle the youth in the senior participants of UMAS/MAFS. It brings back fond memories to all the Adult Day Care participants of their yesteryear "Love Days". During the celebrations, they portray themselves as old-time actors, where they dressed, danced, sang and performed like one. The seniors amazingly start to look like the olden day Bollywood actors. They get excited while reminiscing their romantic years and their youth is rekindled! UMAS/MAFS celebrate Valentine's Day to inspire the senior participants to evoke a sense of resilience to keep them feeling young forever. Seniors along with staff, exhibit their best enactment of their younger years with music, dance and decorations.
During this year's Valentine's celebration, the entertainment the seniors and staff of all the ADS locations demonstrated at this age, was unbelievably brilliant. It was so much fun and full of youthful enthusiasm.
Adult Day Care Participants from SCHAUMBURG LOCATION – 1421 S. Roselle Rd., Schaumburg, IL, Naperville Location – 1032 E. Ogden Ave., Naperville, IL, Orland Park location – 11225 W 159th Street, Orland Park, IL, along with the other ADS locations celebrated Valentine's Day. The locations were decorated gorgeously and appropriately for the event. The staff and seniors participated in making lovely heart shaped cut outs, and other Valentine decorations which was a delight to the eyes. All the seniors dressed up exactly like the Bollywood stars to look like Asha Parekh, Waheeda Rehman, Meena Kumari etc! They stole our hearts.
Schaumburg Location invited Mr. Bharat Aacharya and Ms. Pravina Acharya to entertain the seniors and staff by singing old songs. Seniors planned special and romantic skits and songs as a part of the entertainment. Mrs. Santosh Kumar, Mr. Prashant Kumar and Mr. Sagar Kumar joined amidst the entertainment. Special mention and Kudos to our seniors who participated: Niruben Topiwala as Asha Parekh for song Sayonara Sayonara, Sheela Dave as Nanda for song Yeh Sama, Sama Hain Yeh Pyar, Kailash Patel as Waheeda Rehman for song Paan Khaiye Shaiya Hamaro, Kailash Joshi as Nirupa Roy narrated a dialogue, Veena Mayani as Bindu narrated a dialogue, Hasmukh Modi as Raj Kapoor for song Zindagi Ek Kwab Hai, Shakunatala Parekh as Meena Kumari for Song Na Jao Saiyaan Chuda Ke Baiya, Kirtikumar Parekh as Raj Kumar for song Chalo Dildar Chalo Chandke Par, Prafulchandra Patel as Raj Kapoor for song Jane Kahan Gaye Woh Din, Vallavbhai Patel as Bhagwan Dada narrated a dialogue, Ram & Darshna as Sanjeev Kumar/Jaya Bachan for song Pallo Latke Maro Pallo, Premila Patel as Vyjayanthi Mala for song Saiya Dil Mein Aana Re AAke, Ranchod Patel as Devanand for song Phir Na Jana Re, Purshotam Thakur as Amitabh Bachan for Chali Chali Hawa Chali, Maheshwari Soni as Babita for song Aage Bhi Janetu Peeche Bhi Janena tu, Shanti Topiwala as Shammi Kapoor for song O hasena Zulfo Wali Jane Kaha, Schaumburg location driver Bobby did an incredible job dressed up as a lady.
Mrs Kumar presented all the seniors and staff with Valentine rose shaped Chocolates and other delicious treats. In her speech, she praised the seniors and staff for putting together such an exceptional entertainment and emphasized that an active social life promotes healthy living!
Similarly, Naperville location celebrated Valentine Day. Under the supervision of ADS activity Staff Eva Contractor and other ADS staff, the seniors decorated the location with pink and red paper cut outs. They made 140 hearts and named each heart with a senior participant's name and hung them on the stage. They made roses out of organdy material which looked so real. Kudos to our seniors! They also decorated the location with teddy bears and balloons. All the seniors were dressed superbly in red and pink outfits. Ms. Pratibha Dixit- senior participant, gave a speech on why we celebrate Valentine's Day. Following this, Ms. Triguna Dave and Ms. Pratibha Dixit presented a memorable dance for a Bollywood song, "Tumse milkar aisa laga tumse milke". Next was an extraordinary dance performance by our senior couple Mr. Ravish Chander and Ms. Lata Kusum. Special Ovations to our Kawali dance performers, Ms. Geeta Vyas, Ms. Saraswati Kansara, Ms. Tara Pawar, Ms. Saroj Shah, Ms. Nirmala Bavaria, Ms. Priti Majumdar along with our staff member, Eva Contractor, Parul Shah and Rozeena Jaffer, for another Bollywood song number "Teri Mahefil me kismet aaj ma ke". Mr. Randy Bhatia sang fabulous Bollywood movie songs. The entertainment ended with a dance medley performed by seniors and staff, Ms. Triguna Dave, Ms. Saroj Shah, Ms. Nirmala Bavaria, Ms. Priti Majumdar, Ms. Lata Kusum, Eva Contractor, Parul Shah and Rozeena Jaffer. Naperville Location Manager Neelam Desai wished all the seniors and staff a Happy Valentine's Day following a grand and delicious meal prepared by Naperville location.
Orland Park and Vernon Hills Locations did their celebration in a similar manner. Vernon Hills seniors celebrated Valentine's Day by playing a bunch of fun valentine themed games and had a great time. They specially thanked UMAS for arranging the Valentine's Day Celebration and mentioned that If not for UMAS they would have never experienced this much fun and entertainment.