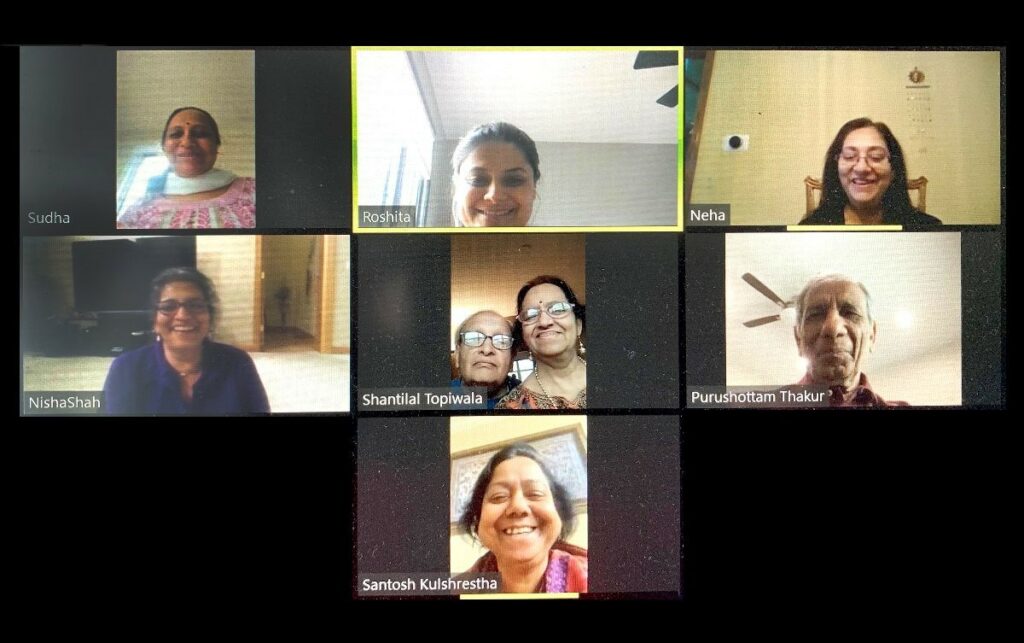 With COVID-19 wreaking havoc across the world, for the safety of the senior participants, MAFS/UMAS has suspended some of the programs temporarily. But, this has not stopped MAFS/UMAS from keeping in touch with the senior participants of the community. MAFS responded to the need of the seniors by adapting its programs from in-person social gatherings to virtual sessions online. This ensured that our seniors are not deprived of any benefits from these programs and remain socially connected during these difficult times of isolation.
Following MAFS/UMAS' main goal to eliminate social isolation of seniors, two such success stories are of Memory Café Program and Adult literacy Classes conducted online. When we checked with our seniors about the possibility of a virtual Memory Café, they showed great enthusiasm for it! That motivated us as a team to go ahead and organize it via zoom as it was the most convenient platform for all. The online session took place on 22nd April from 3:15 pm -4:45 pm. Senior participants, Purushottam Thakur; Shantilal Topiwala; Parag Patel; Sudha Gandhi joined the group along with staff members. Everyone was surprised and delighted to see Mrs. Santosh Kumar join the group! They played various memory games and had healthy discussions on various topics. It was a delight to see them come together virtually, jog down the memory lane and beat social isolation by having a great time with their co-friends. Memory Café is a wonderful, welcoming place for individuals with mild memory loss. Memory Café focuses on different aspects for a unique experience. In this program, we participate in a variety of activities like memory games, crafts, music, painting, and motivational speeches with family members or caregivers. Memory Café is beneficial not only to those affected but to the caregivers as well. It is not just a place to just "drop off" your loved one for a while, but also a way to enjoy activities with them as a break from the normal routine. They can simply enjoy the company of those with similar things in common. Activities are varied but tend to focus on the pictures that are apt to cause one to reminisce about times gone by. That "connection" to the past can be as comforting as it is medically beneficial. Please benefit by registering in this program by calling, 1-866-330-8627 if your parents or your loved ones need help!
Similarly, MAFS' Adult literacy classes for seniors were also conducted online via zoom on 27th April. Hasmukh Modi (tutor); Vallav Patel(student); Nirmala Topiwala(student); Premila Patel(student) from Roselle ADS center got together online to study Math and English to brush up their basic literacy skills. MAFS is proud of its seniors who continue to display their zeal for learning despite the lockdown and all the negativity around! Metropolitan Asian Family Services (MAFS) is running the Adult Literacy Program for many years to meet the need of our community seniors. But for the last three years, it is funded by the Illinois Secretary of State. MAFS' goal is to serve the pre-literate elders from India and its subcontinents. Many of these elders have not had an opportunity to go to school to study, due to limited mobility, infrastructure, and most of all lack of educational institutions.
This program has undoubtedly helped the seniors improve their English learning skills. It has simplified their day to day living by helping them manage their banking needs by reading, understanding, writing, and signing their own forms. They can communicate on the telephone with ease! The program has also enabled them to communicate with their grand-children effortlessly. They can now count currency, therefore, helping them to shop and be independent. They can understand and watch regular TV programs. If you are interested in enrolling in this program, please feel free to call us at -800-866-8627 for further information.
Buoyed by its success, MAFS plans to continue with these virtual sessions throughout the COVID lockdown period until normalcy resumes.