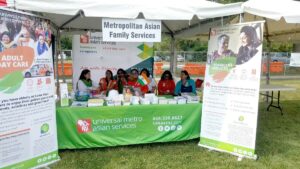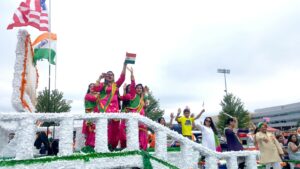 Metropolitan Asian Family Services (MAFS) and Universal Metro Asian Services (UMAS) participated in the well celebrated India Day Parade on August 11, 2019. Naperville staff helped Jasbir Mann, our outreach coordinator, to set up our booths bright and early to spread the awareness of our service to the community. People stopped by at our booths to pick up literature to be familiar with our services. Our booths were equipped with abundant information and our able staff helped the people by answering all their queries. This is one the reasons why MAFS/UMAS participate in all cultural events – to spread information about its services to the seniors of the community to better serve them.
India Day Parade started in 2015. Since then it has quickly grown into one of the largest Indian American festivals in the USA. It is instrumental in bringing Chicagoland & Midwest community together to experience Indian Culture and Heritage through Parades, Education, Food & Entertainment. This year it was at Knoch Park 724 S West St, Naperville, IL 60540. There were patriotically dressed colorful indian folks, Classical & Modern Dances, Food, Drinks, Children Area, Fashion Show and Concerts. Shopping of Indian Ethnic Dresses/Jewelry were the highlights. The event was headlined by the master of amazing voices, top singers and stage performers.
MAFS/UMAS had its own beautifully decorated float. The staff dressed patriotically joined the rest of the parade for a mile. Ms. Kumar, with board members and their staff shouted patriotic slogans as the parade progressed. Later that evening, there were numerous entertainments which was enjoyed by many. After the concert everyone enjoyed the fireworks which were like rainbows in the dark sky!