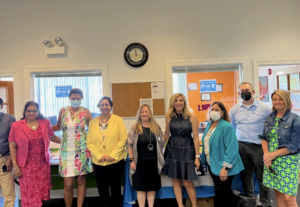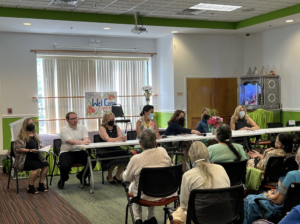 What an exciting day when a team of 8 Elected officials visited our ADS site at Naperville with AgeGuide Northeastern executive director, Marla Fronczar and Mike from White Crane Wellness. It is not an exaggeration to say that all Senators and State Reps were very happy to see how much good care of seniors is undertaken by UMAS staff from picking them up from home to the center for structured activities to keep them happy, healthy, and well fed with home cooked delicious breakfast, Lunch and snacks with tea or coffee.
Marla Fronczar ED of AgeGuide introduced all the elected officials namely, Representative Maura Hirschauer (49th District), Senator Karina Villa (25th District), Rep Terra Costa Howard (48th District), State Rep Deb Conroy (46th District), Stephanie Kifowit (84th District), State Rep Janet Yang Rohr, Senator Linda Holmes (42nd District), Staff of Congressman Sean Casten, Mike from White Crane Wellness center and talked about the role of AgeGuide to connect the Community based organizations in an effort to have a better partnership with communities they represent. Each elected official also talked to the seniors and staff about their program in each district and they all expressed how good they feel to meet them and know about their utmost satisfaction with UMAS services. Few Seniors also expressed their joy in coming to UMAS Senior centers, which changed their life completely from a lonely, depressing life to happy and fulfilling life with fellow seniors, with whom they, play, eat, sing, dance, and share their life story and make friends. Mike from White Crane Wellness center also talked about the program which makes it possible and thank Marla Fronczar, and Mrs. Santosh Kumar, Founder of UMAS for providing an opportunity to meet and greet at a beautiful Naperville site with delicious food to all them. Every elected official praised the freshly cooked savory meal on site. They wished that the whole country should take such good care of seniors as UMAS Staff does.
What a rewarding day for the UMAS ADS center!!!