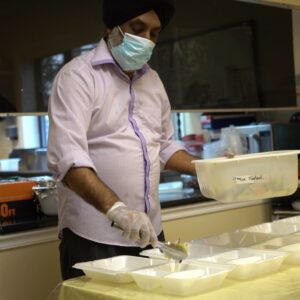 We specially honor our frontline workers who diligently come to work everyday, braving COVID-19 to safely deliver about 400 – 500 individually packaged, fresh meals, prepared at our locations, to the elderly of the community. The seniors eagerly wait for the meals to be delivered by us daily. They are so happy to see our drivers deliver the meals with caution and make sure that the seniors remain healthy and safe at home.
A special mention and applause to Dipti Shah, Dhayabhai Patel, Shrenik Dalal, Harivadan Patel, Balakrishana Dholakia, Ashok Mithapara, Mukesh Panchal, Jayanthi Baskaran (Nurse). A special Thanks to all our drivers and cooks who have played a very important and significant role during this time, particularly, Sumitraben Patel, Vijayben Bhandari, Nayanaben Patel, Lugdhirsinh Chudasama ,Nisharbhai Ghogha, Elizabeth Flores (House keeping), Jagdish Z. Patel, Raman Patel, Ibadat Sheikh, Steve Nelson, Jagdish S. Patel, Kamlesh Amin, Sudhir Muhammad, Manisha Patel, Purvin Thakkar, Rajinder Singh,Taiyaba Bukhari, Geeta Bodiwala, Ilyas Patel, Mohammed Khan, Prakashchandra Patel, Janakkumar Patel, Carmela Velazquez (Housekeeping), Pratibha Purohit, Ramila Gandhi, Balvinder Kaur, Jayshree Thakkar, Sharmistha Patel, Aijaz Rajper, Abdul Masra, Bakul Patel, Balwinder Bhalla, Bharat Patel, Sanjay Patel, Muhammad Shahzad, Prafulbhai Patel, Rafiq Shaikh, Nitinkumar Desai, Prashanta Mukharjee (Volunteer), Katarzyna Fita [Kasia] (Housekeeping), Ashokkumar Patel, Bhavna Master, Parvinder Singh, Hitendra Luhar, and Dushyant Desai.
We hail these workers as heroes who have volunteered to put their lives in jeopardy to play key roles to serve the seniors during the pandemic, while much of the world continues to take shelter in their homes as per the orders of the government. Their sacrifice is well appreciated and we salute them for their selfless work! Also, to break the isolation caused by this pandemic, a well-deserved appreciation to the organizers of the ZOOM sessions. These sessions are organized by our workers to bring the seniors together to break the isolation amongst them. WE SINCERELY THANK EVERYONE FOR YOUR HARD AND NOBLE WORK!